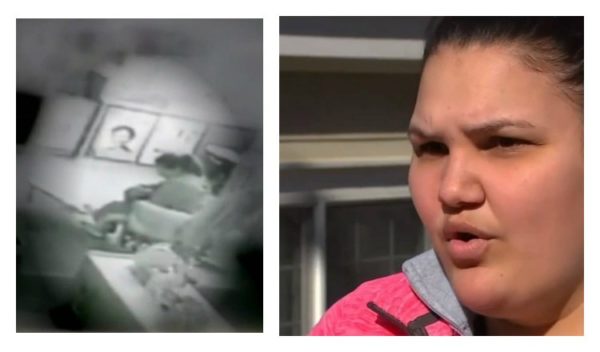 A North Carolina mother is speaking out after she says a day care worker breastfed her child after being told not to. She said that she wants police to press charges against the woman she believes has no business caring for children.
When
Kaycee Oxendine
, 27 dropped her 3-month-old off at daycare, she told the childcare worker that her baby had been constipated. The caregiver asked whether she'd like her to breastfeed the baby, and Oxendine, who works as a pre-kindergarten teacher for a different organization in the building, said she clearly declined the offer.
"She said she had a child, and said, 'I'd like to help.' I said, 'Oh, no. You're not his mother.' I thought that was disgusting and I said no," she told ABC. "I thought it was a clear understanding… because she said something about getting prune juice for him."
On top of her personal reasons for refusing, Oxendine said her decision was compounded by the fact that her son, who was born two months premature, is lactose intolerant.
"He can't have milk," she said. "I give him soy formula."
Oxendine said that once she left her child in the woman's care, the caregiver opened her top and pulled the boy to her breast. Oxendine found out via recorded footage from a security camera inside
Carrboro Early School
. It shows a woman apparently nursing the 3-month-old.
The woman stopped when another person in the room stood up from their seat and walks away, the video shows.
Just after it happened, another employee reported the incident to the daycare director,
Daron Council
, who told reporters that the worker is no longer at the school. She'd been an experienced teacher and one that typically worked at a different facility.
Oxendine was shown the footage when she came to pick up her son later that day, she said.
"I was very shocked, it almost seemed unreal," she said. "I was very angry, to say the least."
The baby was allegedly rushed to a local hospital that night after becoming ill from what Oxendine believed was the milk.
"He has no tolerance for it," she said of milk. "He ended up getting sick, throwing up. His digestive system can't handle it."
The infant has since returned home and recovered, Oxendine said.
"He's a very happy baby; he doesn't cry at all," she said. "He's great."
But the distraught mother said she believes the woman should be held accountable.
"If I have a choice, I want her criminally charged," Oxendine said. "I don't think she should be able to work with kids. It's very, very disturbing, what she did. I've definitely had sleepless nights and my emotions have been all over the place. It's a lot to deal with. You definitely don't expect that to happen to your child."
The Carrboro police department said on Tuesday that the incident is being investigated as misdemeanor child abuse. However, no charges have been filed.
Source/Photo Credit:
ABC